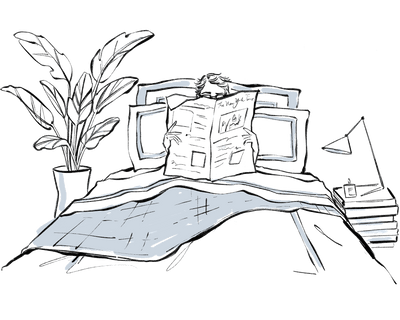 10 Grove
What is home? At 10 Grove, it's about a sense of place, one that resonates with each of us in a distinct and personal way. For our founder, this is her childhood home. For you, it could be a first apartment, a summer getaway where you reconnect with your family—even a local haunt for gathering with friends. In these places, we feel as though we belong, and in returning to them we find peace—a place to always be ourselves, where we feel truly at home.

We've set out to capture this same essence of comfort and wellbeing in everything we do. And we're here to help you find your personal ideal of what it means to be really at ease, starting with your bedding. The bed is your sanctuary—there are few places we find more personal and intimate. We want to get you between sheets that are of undeniably high quality that you'll really, really love. Sheets you'll want to keep around for years, that look and feel like heaven, but don't cost the earth.

10 Grove is a purveyor of pieces that strive to make you to feel special, by becoming an extension of who you are. Our collections are a way to express your true personality and to surround yourself with things you genuinely love.

We spend as much time sleeping as we do working—so why don't we choose our bedding as carefully as we do our clothing? We want to help educate you about 10 Grove's quality and details, and why they are so exceptional. Our business is one without secrets, and we are unusually transparent about our process, our product, and—most importantly—our price. We source and manufacture in a unique way—it's a real game changer.

In welcoming you to the family, we want you to share our home, our process, and our ethos, so that you'll feel comfortable sharing yours with us.

Make yourself comfortable. And welcome to 10 Grove.