Our Product Journey
The insider's guide to quality, comfort, luxury, and transparency.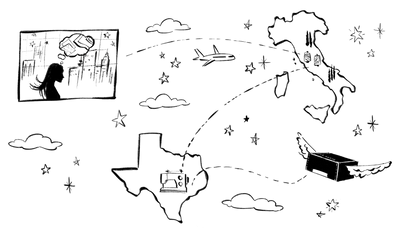 WELCOME TO 10 GROVE
We believe that shopping for your home should be about you—about what you enjoy and how you live. To fulfill this mission, we are guided by our core principles:
Provide undeniable quality at an accessible price
Maintain honest production standards
Employ thoughtful design principals
Exercise meaningful transparency in everything we do
10 Grove is not just another bedding company. We are the only true, direct-to-consumer brand of luxury linens. You may be thinking, what does this actually mean?

We believe in making better products in a more efficient way, by controlling every step of the process in house. Each piece at 10 Grove is sewn by the skilled artisans at our own U.S. factory, using only the finest Italian fabrics. That means we're bringing you over 250 years of luxury craftsmanship directly to your bedroom door.

We're here to set a higher standard for your home by proving that comfort, design, craftsmanship and price are not mutually exclusive.
We are the first genuine direct-to-consumer bedding company. We're serious–and seriously dedicated to bringing you the highest quality bedding at the most honest price. The term direct-to-consumer has become diluted, used to describe any e-tail business without a brick and mortar store. But even in companies that make or distribute their own products, there are hidden middle-men and third-party suppliers that mark up every step of the process along the way.

What does it all mean? Quality is at the top of our list—morning, noon, and night. We invest more in our products than other "affordable" luxury linen brands, so you pay about the same—but get so much more.

True vertical integration. Our supply chain doesn't have any broken links or detours. It's streamlined and straightforward—exactly what you'd expect 'direct-to-consumer' to mean! This illustration lets you see at a glance how we're different.
THE ALUMNI
Manufacturers using the traditional supply chain 7.5x - 9x markup
Fabric Mill +
Finishing House

In-house or Third Party Manufacturing

Sales
Representative

Retail Store

Customer

~9x
THE NEWCOMERS
The "direct-to-consumer" brands who rely on a network of 3rd party intermediaries 4.5x - 5x markup
Fabric Mill

Fabric
Finishing House

Third Party
Manufacturing

Sourcing
Agent

Third Party
Fulfillment

E-Commerce
Website

Customer

~5x
10 GROVE
Our vertically-integrated, in-house supply chain 2x-2.5x markup
Fabric Mill +
Finishing House

In-House
Manufacturing

E-commerce
Website

Customer

~2x
Our cotton–and not just the words describing it–is actually top quality! People use terms like "extra long staple" and "100% Egyptian cotton" to mean highest quality, similar to the way Kleenex has come to represent all facial tissues. The truth is, Egyptian cotton can vary tremendously.
Most companies source their yarn from a third party spinner. Not us. We eliminate steps like this because a) it's an added cost that would have to be passed on to customers, and (b) when you go through someone else, you can't be sure of consistency and quality. We can.

We source directly from the most reputable weavers in Italy. The same mill buys the yarn, weaves the fabric, and finishes it in house. Even many "luxury Italian" bedding companies–yes, even those that charge you $1,500 or more for your bedding–can't make this claim. (Some of them don't even produce their fabric in Italy!) We're the real deal, and do nearly everything under one roof. (See below).
All our sewing is done in our own U.S. factory. We get the finished percale and sateen fabrics from our factory in Italy and do the rest in Texas. Cutting, sewing, hemming, embroidering, detailing by our skilled artisans, in house. Again, no third party. No middle men. All under one roof. We carefully control the quality and can incorporate luxury design features at a much lower price.

We have 30 years of experience in luxury bed and bath linens. And over 250 years of combined experience making luxury bedding in our factory. That gives us not only a thorough understanding of the industry (and how it needs to be improved) but also deep insight into US home textile market taste and trends.